There are various possible endings in Wadanohara and the Great Blue Sea.
This is the second "Bad End". Listed is how this End is reached and what happens in this End.
~~
Toward the end of the game, while in the castle, Sal abducts Samekichi, and the player is given the option to rescue him or move on. If the player chooses to rescue him, they will head the way Sal went, leading to the second bad ending.
The player heads down a dark corridor. The screen turns black for a minute, and it is shown afterward that Dolphi and Memoca have been violently killed. Fukami's eyes turn red, and he proceeds to presumably disembowel Wadanohara.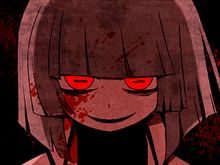 After killing Wadanohara, Fukami comes to his senses, saying this isn't what he wanted. Sal appears, telling Fukami that he chose this path himself before welcoming the other to the Red Sea.